List Of Districts in Sikkim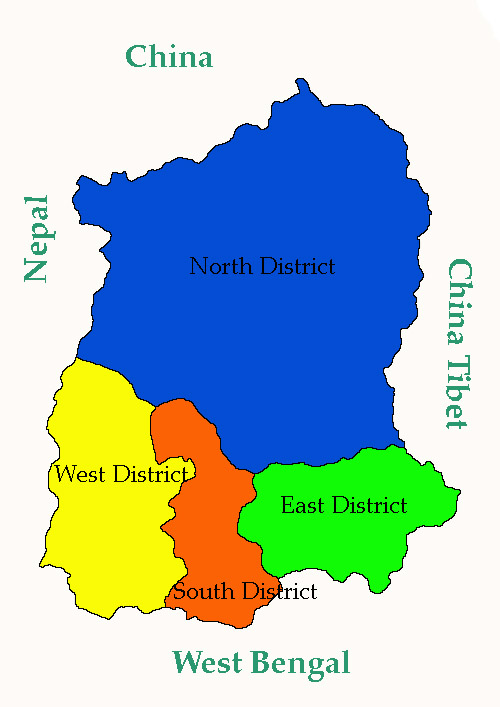 Current Corona Virus Infected Patients Total Count in Sikkim
| City Name | District Name | Covid Positives cases |
| --- | --- | --- |
Railway Stations in Sikkim
Sikkim Map
Sikkim, the beauty spot of East Himalaya, to her people, is the Denzong or the valley on the slope. She shines like a crown, geographically on the top of the map of West Bengal. The jewel in the crown is the world's third highest mountain Kanchenjunga, literally meaning the Five Treasures of Great Snow. The four districts on all her four sides are dazzled with the sunlight reflected by its white snow. An independent Buddhist state, Sikkim thrives on tourism. The Tibetan influence is manifested with in her historical, cultural and spiritual lineage. Gangtok is the capital of this second smallest state of India. At her south is Darjeeling is Gorkha Hill Council in West Bengal. The border is drawn by Twin Rivers- Rangeet and Rangpo. At her north, across Kanchenjunga, is Tibet. Beyond the Chumbi Valley at her east are Tibet and Bhutan. Nepal lies beyond the Singalila mountain ranges at her west. Amid all this beautiful natural sight flows Tista from north to south. Buddhist architectural remains are strewn all over. A walk through the state takes you through a huge crowd of countless of Lungtas (prayer-flags) and Mani-Lakhangs (prayer wheels).
In this state the tourists are frequently greeted by colorful writings on the roadside: Sikkim is the Jewel in the Crown of India. Sikkim, for a long time, was a protectorate of India. Constitutionally the king was the ruler. But her foreign policy and defense lay in the hands of India. Sikkim the 22nd state of India, keeps her doors otherwise open to the Indians. 36% of its territory is being covered in forests. Sikkim has rich jungle resource comprising sal, simul, tony, fir, oak, birch, maple and varied species of bamboos. There are at least 4000 species of plants and 650 species of flowers. The entire valley is aflame in April and May with 36 species of rhododendrons, magnolias, primulas and alpine flowers. Sikkim also grows cardamoms, apples and oranges. The upper Himalayan region is inhabited by snow leopards, wild asses, blue sheep and red pandas- Precisely Sikkim is a paradise for any tourists.
Gangtok-meaning the glorious mountains-is the new state capital offers lot of tourists attraction such as Deer Park which is made as a replica of Sarnath. There is also an image of Sarnath Buddha and a museum. On a small hillock, 7km away, is a small temple named Ganesh Temple. The hilltop presents an overview of Gangtok. Just above it- 11km away from the town- is another view point, Hanuman Tok. India's only Butterfly Park with not less than 400 species- is another attraction in Gangtok. Rumtek Gumpha is one of the world's richest and most important Dharmachakra centre. One of the major items in your Gangtok tour is definitely Tssango Lake. Tssango lies in its snowy splendor at a height of 3774m. On the way to Nathula is the Temple of Baba Harbhajan Singh i.e. Gurdwar in the beautiful Kupup Valley. Yumthang, another tourist attraction is a piece of heaven with mountains all around and the valley of Alpine flowers. Yumthang looks most beautiful during spring time. Fiercely rushing down from a 300ft high cleavage, Kanchenjunga Falls is an attractive sight in Pelling.
Demography-
Population wise, there are only 44 persons per sq km.n75% of the total population are the Nepalese, 18% are the Lepchas, 6% are Bhutiyas and a meager 1% consists of Indian tradesmen from different states. The Lepchas- the indigenous community of Sikkim are a majority in Central and North Sikkim. Legends and myths govern their social life. The literacy rate in Sikkim is 70%. The main language of this state is Sikkimese and Gorkhali. Also practiced are Lepcha, Limbu, Bhutiya, English and Hindi. Sikkim is entirely a mountain state.
Climate-
An ideal time to visit the place is from March to June and October to mid December. Flowers take a breath taking landscape in April-May. October comes again with a new cycle of flowers. The sky is clear in November- one of the best times to enjoy the scenic splendor. It is quite cold in March and December. The monsoon stays from end June to early September. Both the rivers Tista and Torsa- swells up, causing occasional flash floods and disrupt normal life.
********